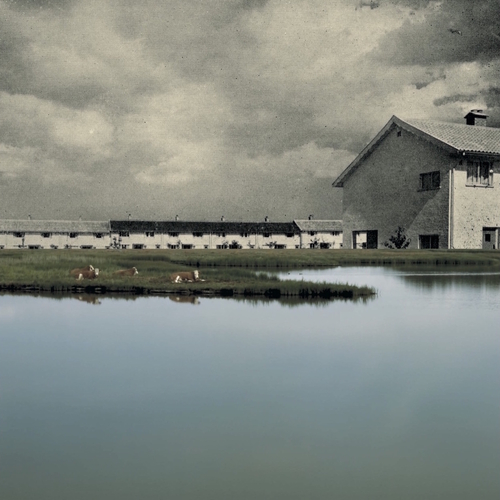 The Weather Clock
Available Formats
Tracks
Price
Buy
12" Vinyl Album
12 tracks

£

17.99
Description
July Skies - The Weather Clock
A lost guitar–led, harmonic-ambient gem which is less a hauntological delve into the British psyche and more a bleached out mid-summer's daydream.

This Rivertones release is the first time 'The Weather Clock' has been issued on vinyl.
 
July Skies is: Orford Ness, lost youth, Henry Moore, pylons across fields, abandoned airfields, Avebury, endless childhood summers, forgotten England, the romance of the heavens well after closing time, Super8, countryside, mornings in May, ruins, faded innocence, post-war Britain, skies of all seasons, trudging coastlines, Festival of Britain 1951, memories made with a Polaroid Landcam 103, overgrown follies, East Anglia, concrete precincts and tower blocks, suburbia, old Ordnance Survey maps, lost airmen, rustic charm, John Nash, poppy day, a half remembered smile, 1960s artwork by Harry Wingfield, John Berry, Martin Aitchinson, C F Tunnicliffe, Ronald Lampitt, BST, municipal parks at dusk, love, infatuation and loss.

Pre-orders will receive a download code for 'Skies For Nash' from the album within 24 hours of purchase.
Tracklisting
12" Vinyl Album (RIVERTONESLP5)
July Skies

- Afternoon Pips

July Skies

- Branch Line Summers Fade

July Skies

- Girl On The Hill

July Skies

- See Britian By The Train

July Skies

- Friog

July Skies

- Holidays To Wales

July Skies

- Broadcasts For Autumn Term

July Skies

- One Morning In May

July Skies

- Distant Showers Sweep Across Norfolk Schools

July Skies

- Waiting For The Test Card

July Skies

- Skies For Nash

July Skies

- To My Love