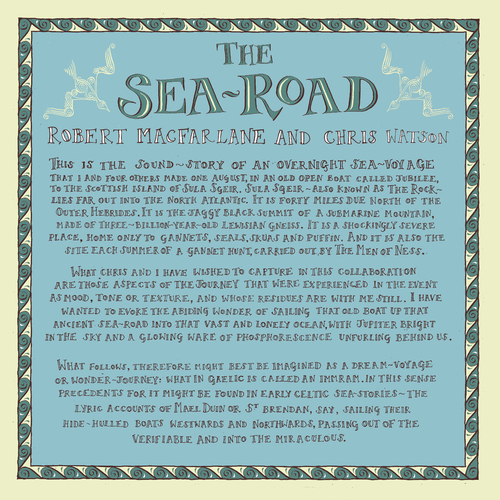 The Sea-Road
Available Formats
Tracks
Price
Buy
12" Vinyl EP
3 tracks

£

8.00

Out of stock
Description
Robert Macfarlane & Chris Watson - The Sea-Road
Undoubtedly the highlight's of Caught by the River's summer 2012 was an utterly unique collaboration between two of Britain's most forward-thinking adventurers, author Robert Macfarlane and sound recordist Chris Watson. They had been plotting something special for a few months, a performance piece based on Robert's book The Old Ways that would blend archive audio, field recordings and spoken word. We put it on stage at our fifth birthday party at the QEH in May and then again at Port Eliot Festival. Robert read while Chris created a bespoke soundbed for the words. The result was eerie, trippy, uplifting, effortless and fantastic. Cut to a couple of months after Port Eliot. Chris Watson sends a jaw-dropping recording of the Port Eliot performance at the exact point we're scratching our heads about what to put on the next Rivertones release…

And over on the other side:

1/ Chris Watson – Granite: A sound-work by Chris Watson, recorded on location in the Cairngorms in response to the Granite chapter in Robert Macfarlane's The Old Ways.
2/ Chris Watson – Stormbeach: A sound-work by Chris Watson, recorded on location on Orford Ness in response to the Stormbeach chapter in Robert Macfarlane's The Wild Places.

The Sea Road will is available as an limited 12″ on Rivertones. The cover has been beautifully crafted by Nick Hayes (The Rime of the Modern Mariner).
Tracklisting
12" Vinyl EP (RTS2)
Robert Macfarlane & Chris Watson

- The Sea Road

Robert Macfarlane & Chris Watson

- Granite

Robert Macfarlane & Chris Watson

- Stormbeach