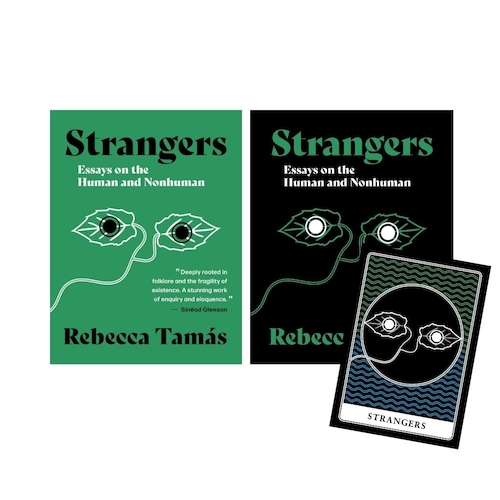 Strangers: Essays on the Human and Nonhuman by Rebecca Tamás
| Format | Price | Buy |
| --- | --- | --- |
| 1ST EDITION (GREEN) - 116-page paperback - Strangers by Rebecca Tamás | £12.99 | |
| 2ND EDITION (BLACK), signed with limited edition tarot card - 116-page paperback - Strangers by Rebecca Tamás | £12.99 | |
Description
Strangers: Essays on the Human and Nonhuman by Rebecca Tamás
★ Very limited remaining 1st Edition copies (green cover) available to ship immediately

2nd Edition copies (black cover, signed, with limited edition tarot card) expected to ship last week of November ★

In Strangers, Rebecca Tamás explores where the human and nonhuman meet, and why this delicate connection just might be the most important relationship of our times. From 'On Watermelon' to 'On Grief', Tamás's essays are exhilarating to read in their radical and original exploration of the links between the environmental, the political, the folkloric and the historical. From thinking stones, to fairgrounds, from colliding planets to transformative cockroaches, Tamás's lyrical perspective takes the reader on a journey between body, land and spirit—exploring a new ecological vision for our fractured, fragile world.

Essays:
On Watermelon • On Hospitality • On Panpscychism • On Greenness • On Pain • On Grief • On Mystery

Copies come with badge and bookmark, while stocks last.
Reviews
'Bursting with intellectual generosity. Deep wide roots and radical shoots. '
—­­­ Max Porter
'Strangers is a much-needed lesson in how to love—unconditionally and immeasurably—a dying world.'
—­­­ Jessica J. Lee
'exciting and clear-eyed'
—­­­ Melissa Harrison