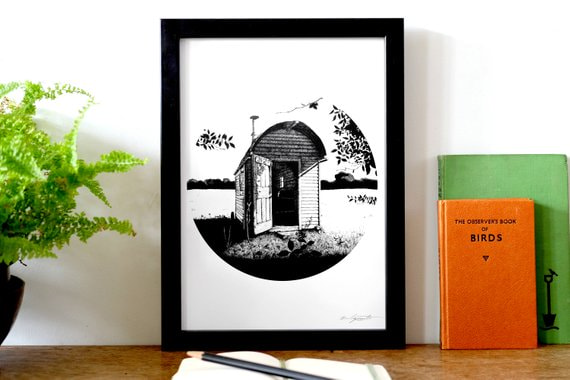 Roger Deakin's Shepherd's Hut - A4 print
| Format | Price | Buy |
| --- | --- | --- |
| Roger Deakin's Shepherd's Hut - A4 print | £15.00 | |
Sorry, Roger Deakin's Shepherd's Hut - A4 print is out of stock.
Description
Roger Deakin's Shepherd's Hut - A4 print
A print designed by Ben Langworthy (whose column,
Lighthouses of the UK
, runs monthly on Caught by the River.)
Shepherd's huts were originally used to allow shepherds to stay with their flock as they grazed. They allowed them to move their portable home to new pastures with the seasons. This particular one belonged to
the naturalist Roger Deakin - the writer, documentary-maker and environmentalist whose intimate and personal portraits of the countryside quietly inspired a generation of nature writers, walkers and swimmers to explore the British countryside.
He made his home at Wallnut Tree Farm in Suffolk but would rarely be found the house. The grounds were strewn with sheds, old railway carriages and this shepherd's hut, where Deakin would retreat to write and where he would often spend the night, enjoying the simple pleasure of waking amongst nature.
Originally commissioned for issue 6 of Ernest Journal, this illustration forms part of a series examining the human relationship with shelters, sheds and cabins and our desire to explore or retreat into the wilderness to rediscover something intangible, lost in the noise of everyday life.
Individually signed and printed on 250gsm card stock.
A4 size (29.7x 42cm) - fits a standard A4 frame.
Supplied unframed & wrapped in a clear cello sleeve with a thick backing board.